CZUR Shine Ultra Document Scanner, Portable Adjustable Document Camera A3 & A4 Book Scanner with 13MP AI Auto Flattening Curve Technology OCR 180+ Languages for Windows Mac - Document Scanner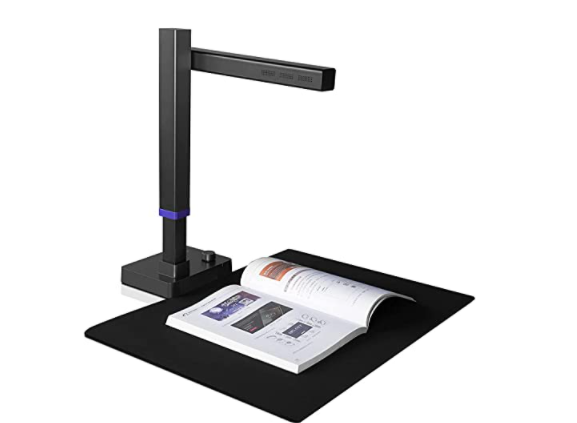 With two lights in addition to the design
Smart paging and auto cropping, combine pages, stamp mode and multiple color modes.
️
EASY TO USE - You can simply connect the document scanner to a PC and CZUR Shine Ultra software with a USB cable
By allowing the TV call app to recognize it as a video camera, it can be used for online meetings, seminars, conferences, etc.
OCR 180+ languages (optical character recognition)
️ RECORDING AND LIGHTING FUNCTION OF THE
DESK: Ideal for online meetings
Auto delete / auto split
NOTE: if you have to scan a lot of thick books, the ET series scanner is a better option.
️ SAVE TIME AND FAST SCANNING: Designed for A3 and A4 documents (11.69 * 16.53 and 8.27 * 11.75 inch), all objects smaller than A3 size can be scanned with lower ultrafast scanning speed to 1 second per side
️
WORK FOR PORTABILITY: It is foldable, adjustable and does not take up much space and weighs only 1kg
️
MULTIFUNCTION SCANNER: patented technology to flatten the curves of books
It has the perfect size for carrying in a bag or backpack.
The microphone is integrated into the main unit and the recording function allows you to save videos (MP4)
Discover and enjoy all the powerful features of Shine Ultra as your day unfolds.
It's easy to carry with one hand, so you don't have to worry about where the scanner is installed
Not just for documents, books and magazines, it can be scanned (JPG) with a single touch of a button, from documents to multiple business cards.
The main unit is of variable type, the height is 33.5 cm and can be extended by 7.4 cm


Note:review from ilsudsiamonoi.it