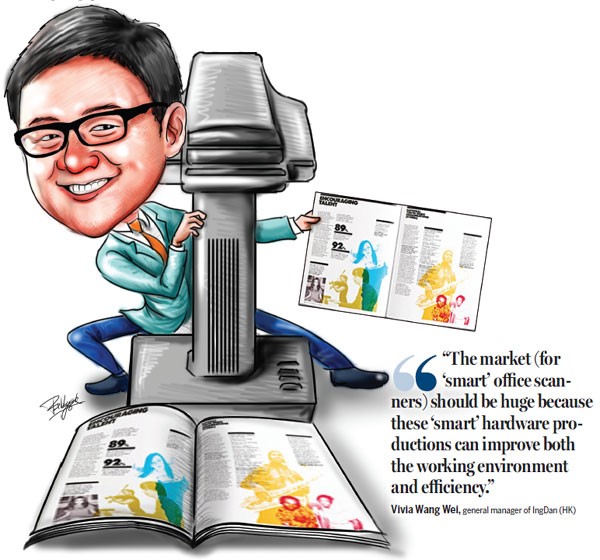 Editor's note: startup, offers businesses what the entrepreneur calls a more intelligent and humanized working experience, and can work 20 times faster than traditional book scanners.
Do you easily get frustrated when the book scanner in your office works like a sloth?
Zhou Kang, who founded Czur Tech Co Ltd, had been a victim of such problems since his college days. Now, he has come up with a solution.
"I'm not very good at using office equipment, such as scanners, printers and projectors. They have too many unnecessary buttons and require installing driver software," laments Zhou, whose own experience planted the seed for his resolve to develop intelligent hardware products for the office.
The 30-year-old entrepreneur, who hails from Guangxi Zhuang Autonomous Region, began studying "smart" book scanners with his alumni of the Dalian University of Technology in 2010 in Dalian before settling in Shenzhen in 2012 to develop hardware, hoping that the startup will offer more enterprises an easier, more intelligent and humanized working experience.
According to Vivia Wang Wei, general manager of IngDan(HK) – a Shenzhen-based platform for "smart" hardware products – about 2,000 projects on the platform target office supplies, making up 20 percent of the total of 10,000 projects.
She observes that the most popular "smart" office supplies are routers, securities facilities and robots. But, for book scanners, there are only a few competitors. "The market should be huge because these 'smart' hardware productions can improve both the working environment and efficiency," Wang says.
However, she admits, the professional and complicated demand of her company's clients is an obstacle in what she calls this "blue sea market".
Zhou says his company aims to be the leader in intelligent hardware products for office supplies. His latest product is an intelligent book scanner, ET16, which works 20 times faster than that of traditional ones, or 60 pages in one minute! And, it has just four buttons.
But, most companies prefer well-known international brands when purchasing office equipment. Can the product developed by a startup with only 40 staff attract them? Zhou is confident because he believes their book scanner can solve most of the problems encountered in the office.
Business operators usually need to scan account books,
commercial contracts and internal publications, which are bound in volumes and have to be unbound if using traditional book scanners.
CZUR Tech has invented a special algorithm that can automatically flatten the curve in the middle so that users only need to flip the pages over to scan, instead of unbinding it. It can also erase fingerprints, purify backgrounds, cut edges for scanned items and convert them to word or PDF documents.
Zhou is proud of his algorithm team. The team leader used to be a hacker and, in order to keep him in the team, he decided to set up the team in Chengdu, the capital of Sichuan province, so that the talent can be close to his family.
While admitting that technology innovation plays the role of foundation, Zhou believes that user experience is the most
significant factor for the success of "smart" hardware startups. In the working environment, people's habits are different from those at home, Zhou points out, adding that the office book scanner should be designed accordingly.
For example, people use computers more in the office instead of mobile phones, so he didn't design an application for smart mobiles. Instead, ET16 uses QR codes to connect to the WiFi and a screen on the top of the machine to check the image.
It's not an easy choice though because the app is an important channel for value-added services. But Zhou says it's worthwhile if it can make its operation more convenient.
The entrepreneur says he does not want to "kidnap" users with applications. "If the company has a client visiting, he or she can use the book scanner easily without installing an app on their phones."
For more convenient mobile working, he established a cloud
storage space online, which will become a channel for value-added services in future.
He also did not pursue faster scanning speed at the cost of a higher price because company clients are usually "cost-sensitive" though his book scanner "can be faster".
It is usually employees, such as secretaries, using the "smart"
office equipment, but it is their bosses who make the final decision to purchase, Zhou explains, adding it's easier to convince the bosses to give it a try for something that's not too expensive.
The product is priced from $179 on crowdfunding platform
Indiegogo, which has helped the startup raise more than $756,000 so far. OnJD.com - one of the major crowdfunding platforms on the mainland - has raised more than 2.5 million yuan ($386,000) to date.
Crowdfunding is becoming increasingly popular among startups in raising funds from individual backers, but company clients usually make their purchases off-line through agents.
However, Zhou found that many companies are also using these platforms to get office supplies, especially medium-and-small-sized equipment. Approaching these enterprises one by one will cost a lot of money and manpower, he argues, and crowdfunding is much more efficient.
For the off-line market, he focuses on large enterprises and
governments, such as law firms, accounting firms and courthouses. He says these big clients are also helpful in convincing online customers to get into their fold.
grace@chinadailyhk.com
(HK Edition 04/07/2016 page9)
Please enter your First Name!
Please enter your Last Name!
Please enter your e-mail address!
Please enter your country!
Thank you! The form was submitted successfully.
Sorry! Submission failed
Please check the email.